MICHAEL EADE: past is present is future
迈克尔·伊德:刹那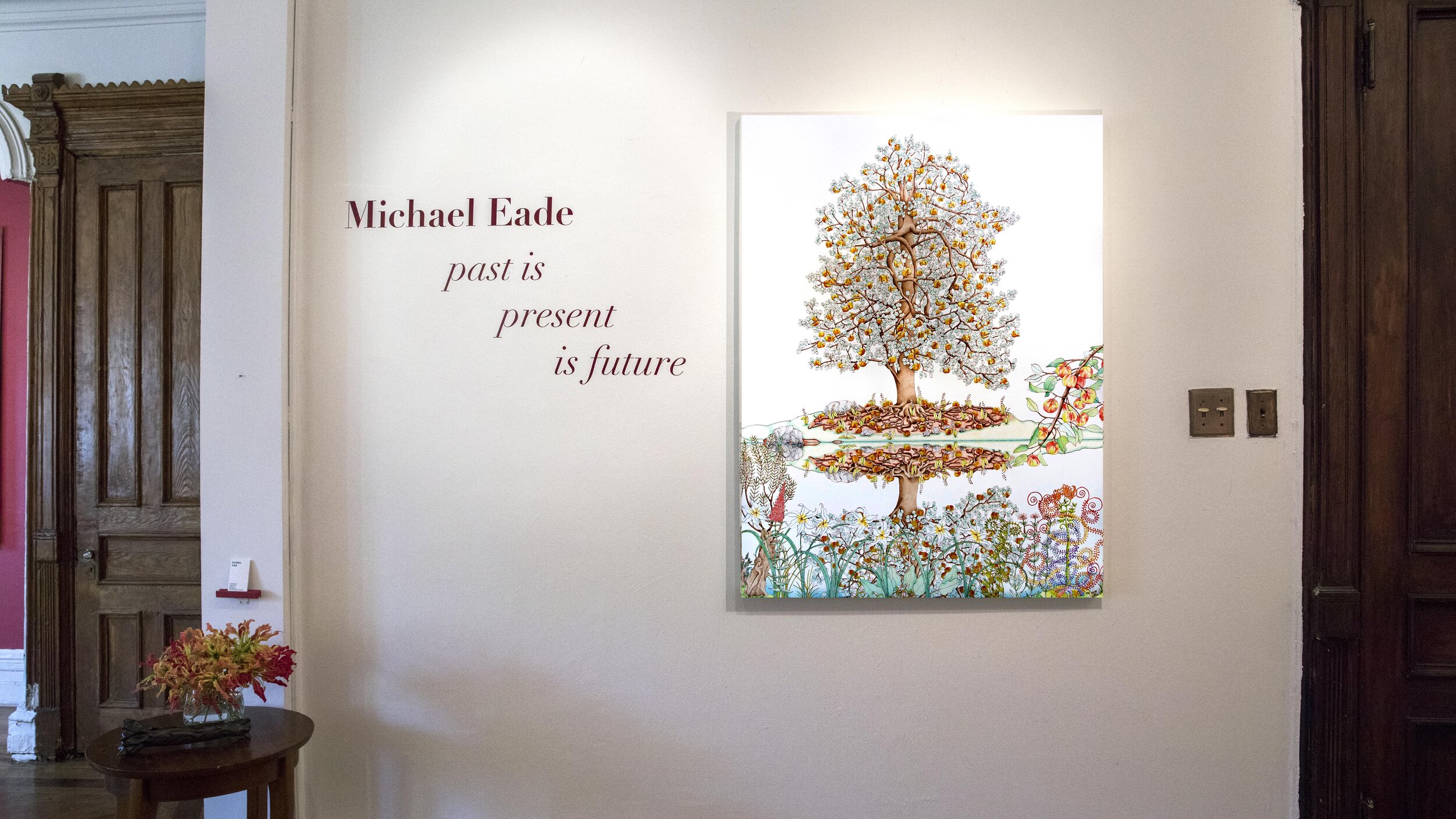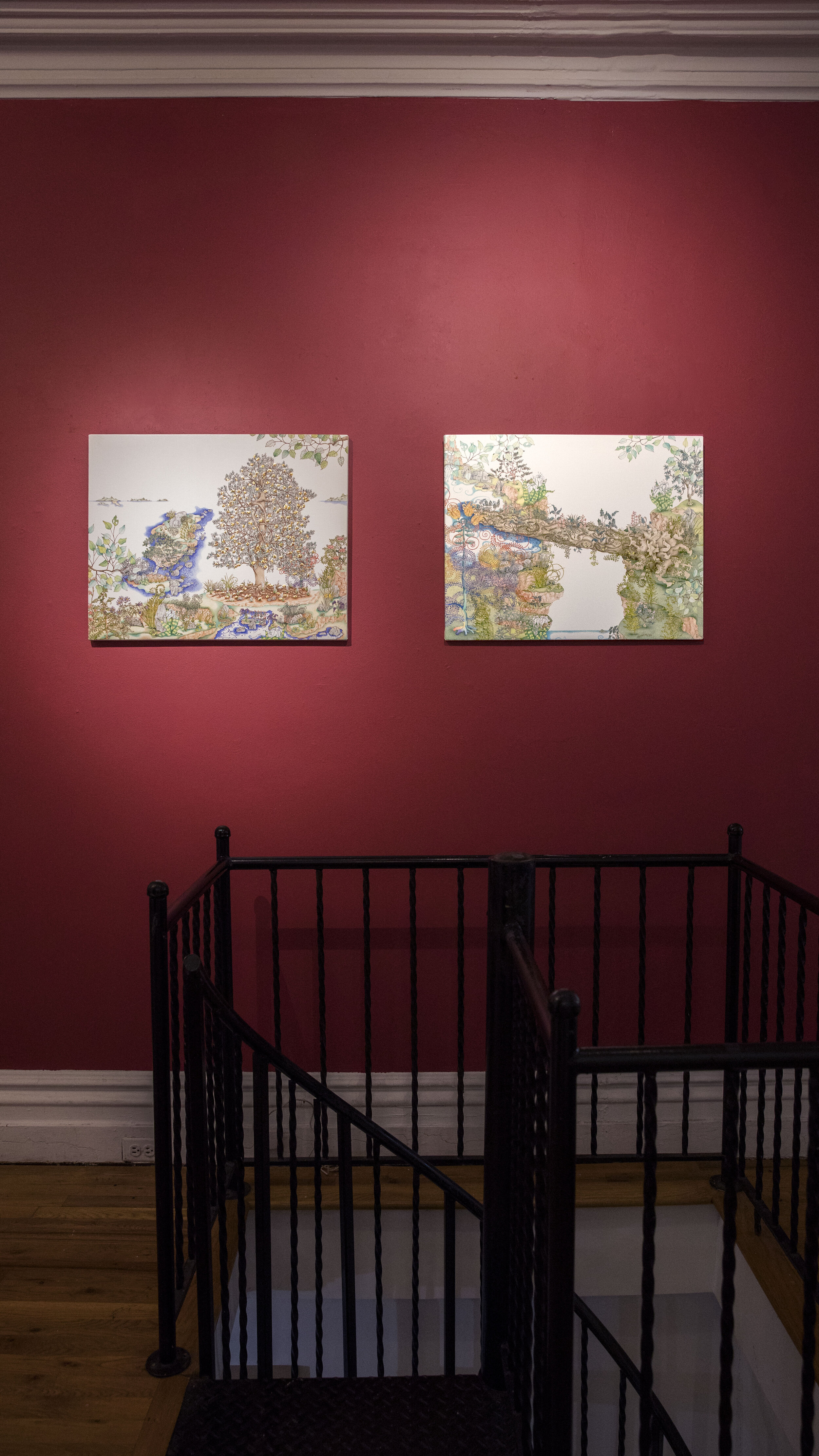 September 21 – November 17, 2019 | 2019年9月21日–11月17日
Artist's Talk | 艺术家对话: Sept 21, 2019, 4–5 pm
Opening Reception | 开幕酒会: Sept 21, 2019, 5–8 pm
Location | 地址: Fou Gallery, 410 Jefferson Ave #1, Brooklyn, New York, NY 11221
Hours | 开放时间: Saturday 11 am–6 pm, or by appointment (

info@fougallery.com

)
Curator | 策展人: Liang Hai 海良
Michael Eade 迈克尔·伊德
Curator | 策展人
NEW YORK – Fou Gallery is pleased to present past is present is future, egg tempera paintings, and porcelain sculptures by Michael Eade. This is Eade's second solo exhibition with the gallery, showcasing work that explores the broad themes of creation, rebirth, renewal and the cycles of life.
Throughout the collection of 19 paintings and 12 porcelain sculptures, viewers are drawn into lush, dreamy otherworldly landscapes. Eade's vision of nature is close up and highly detailed. He takes great care to carefully individualize each leaf, branch, plant, and blade of grass, which all come together in a lusciously dense composition, often anchored by age-old towering tree trunks.
In Tree of Life Reflected (2018), Eade's iconic "Tree of Life" towers over a lake. Flowers on the opposite bank obscure the reflection of its leaves and a wild apple branch comes in from the side. His rendering of this tree is inspired by his study of the ancient fruit forests found in Kazakhstan and the western border of China. These endangered forests are considered the genetic origin of apples and over 300 other fruits and nuts on our planet, and thus are a literal "Garden of Eden". Because the apple is a potent symbol with different meanings in many world cultures and intending to eulogize these forests, Eade's "Tree of Life" is fecund with exquisite gilded golden apples. Robust and full of life, the tree's anthropomorphic branches reach out and give life to the land and forest.
Methuselah (2019) is his rendering of the "Methuselah Tree," a real bristlecone pine found in the mountains of eastern California. Over 4,800 years old, this tree is among the longest-lived life forms on earth. Bristlecone pines thrive where most other plants cannot even grow, such as in rocky soils and areas with virtually no rainfall. Eade's Methuselah honors this magnificent tree by giving it center stage on the canvas, enlarging its scale and painstakingly gilding both the sprouting and fully developed leaves. "For me, Methuselah represents longevity and the timelessness of nature when it is in balance," explains Eade.
Other works such as Change of Season, No. 2 (2016) showcase Eade's mastery of naturalistic detail, where intertwining leaves and branches shine in radiant greens, golds, reds and brown hues. In his Sunset and Gilded Nurse Log (2017), a fallen, decaying old-growth tree provides safe harbor and food for the emergence and sustainability of a different generation of plants. Additionally, always exploring alternative mediums, Eade has extracted his nurse logs and stumps out of his paintings to create editions varie (EV) in porcelain.
Pine Tree Sapling (Small) (2019) is from a new series Eade started this year depicting the renewing power of fire. In the painted scene, green saplings sprout from and around a burnt and destroyed trunk. Eade is very aware that fire has the power to utterly destroy as seen in the recent megafires in California and Brazil's devastating broad clearing of the rainforest. However, as we see in his paintings, naturally burning forest fires clear the forest floor and provide nutrients for surviving plants and newly sprouting life, thus maintaining the timelessness of the cycle of life.
In all of his work, Eade purposefully leads viewers into a vibrant and splendid Utopia of Nature - a sign of what we could lose as we continue to threaten our environment. Within the worlds he depicts, vivid leaves, flowers, and fruits are all suspended in a state where time-lapses and an instant becomes eternal - levitating in every moment of the past, present and future.
During the exhibition, the gallery will hold a series of events that correspond to the theme, including the flower and tea ceremonies hosted by Ye zi and Daisy (Lanzhi) Dai on October 5th, Zuoliang Liu's flute solo concert on October 19th, and the Di Zhao's opera solo concert on November 2nd.
纽约 – 否画廊荣幸地宣布,我们将于2019年9月21日至11月17日举办迈克尔·伊德个展《刹那》,呈现他的蛋彩画与陶瓷作品。这是迈克尔·伊德在否画廊的第二次个展。他的作品不断探索着创造、新生、更迭与生命的循环。
通过观赏伊德的19幅蛋彩画和陶瓷作品,观者将被拉入一个茂盛而梦幻的异世界。伊德对自然界的观察细致入微,这反映在他对每片树叶、每段树枝、每棵草叶的仔细描绘上。他笔下的植物柔美而丰富,往往与画面中古朴苍劲的树干相映成趣。
在伊德2018年的作品《生命之树倒影》中,他标志性的意象"生命之树"矗立在湖边,湖岸另一边的花朵掩映着叶子在水中的倒影,一丛野苹果枝从一旁斜入画面之中。这棵树的形象来自于伊德长期研究的在哈萨克斯坦与中国西部交界处的一片古老的果树林。这片濒危的树林被认为是苹果和300多种其他果类的基因起源地,植物学家称其为基因伊甸园。伊德希望以作品颂扬这片果树林,而苹果在许多世界文化中也寓意丰富,因此伊德描绘的"生命之树"上结满了精致美丽的镀金苹果。这棵坚实而又健壮的树仿佛伸出手臂一般伸出它茂盛的树枝,将生命力洒向土地和森林。
伊德2019年创作的《玛士撒拉》描绘了现实中的"玛士撒拉树"——一棵位于加利福尼亚州东部山区的狐尾松。这棵树的树龄已经超过4800年,是地球现存最古老的生物之一。狐尾松可以在大部分植物无法生存的地方生长,甚至是岩缝间的土壤和没有降水的地区。为赞颂这棵神奇的树木,伊德将它的形象放大置于画面中央,精心地将初萌与成熟的叶片都镀上了金叶。伊德说:"于我而言,《玛士撒拉》代表了长生与自然平衡的永恒性。"
2016年的《季节变换 2》体现了伊德对于大自然复杂细节的精通和掌控,画面中交缠的枝叶闪耀着绿、金、红、棕的色彩。在2017年的作品《日落与金哺木》中,一棵倒下的、正在腐烂的树干为新生植物提供了生存的避风港和温床。另外,伊德始终致力于探索不同的艺术媒介,因此他将哺木和树干的形象提炼出来,创作了不同版本的陶瓷作品。
2019年的《松树树苗(小)》是伊德同年开始的新系列,描绘火对自然界生命更新的作用。画面中,烧焦发黑的残缺松树树干长出了幼小的新苗。森林大火有着摧毁一切生命的力量,最近发生在加利福尼亚州和巴西雨林的毁灭性森林火灾正是例证。然而正如伊德的作品所描绘,自然发生的火灾会清理掉陈旧的表层,为存活和新生的植物提供养分。 这正维系了生命循环的永恒。
伊德在所有的作品中,都致力于引导观者进入一个华美而又生机勃勃的自然乌托邦,而对环境的威胁则可能令人们失去美丽的家园。在伊德所描绘的世界中,茂盛的叶子、花朵和果实全部停留在最为美丽的状态。时间失效,一瞬即永恒,精神仿佛已经脱离现世的桎梏,永存于过去、现在和未来所有的刹那之中。
《刹那》展览期间,否画廊将举办一系列与展览主题相契合的现场活动,包括10月5日由叶子和代兰芝主持的花道与茶道活动,10月19日的刘作亮长笛独奏古典音乐会,以及11月2日的赵笛独唱古典音乐会。
Read the full press release CLICK HERE.
查看完整的新闻稿,请点击这里。